Making Catalyst Conversational and Selling Easier
Business Case: Situation
In 2016, the executive team at EmeraChem, LLC observed a consistently declining market and knew they had to do something to change the direction of their company. With sales volumes contracting and seeing many of their competitors consolidating or closing their doors, they looked for a response to compete. They engaged our firm as a partner to respond with collaborative strategies that united their sales and marketing efforts.
30%
Reduction of marketing overhead
$8M
Added dealer sales volume
The Sprout team spent DISCOVERY time upfront with EmeraChem understanding the company, their products, the end-users and their employees' perspectives.
It generated a baseline assessment of EmeraChem's pursuit of excellence and their unique value in the market. From there, reviewing competitors, the dealer sales process and the end-user experience surfaced the current challenges and opportunities for improvement.
We then DEFINED what isn't happening, what should be happening, the goals to aim for and the action plans to support our new direction. We decided on 3 Key Action Areas for development:
Network Effectiveness

It is our job to make "selling EmeraChem easy."

Pinpoint Marketing

Ensure our marketing efforts directly supported catalyst sales representatives.

Demand Marketing

Build a compelling central message and increase our presence in the marketplace so that our reputation preceded our dealers representing EmeraChem products.
Dealer Network Effectiveness
At the beginning of 2015, EmeraChem did not have quite enough dealers to promote their catalyst solutions. In concert with the network effectiveness initiative, fresh selling materials and onsite sales training, EmeraChem was able to onboard 4 influential dealers committed to excellent service in expanded territories. EmeraChem committed to training dealers in their products and the basics of sales. They continue to be proactive with their dealer network and expect to earn more market share nationwide one customer at a time.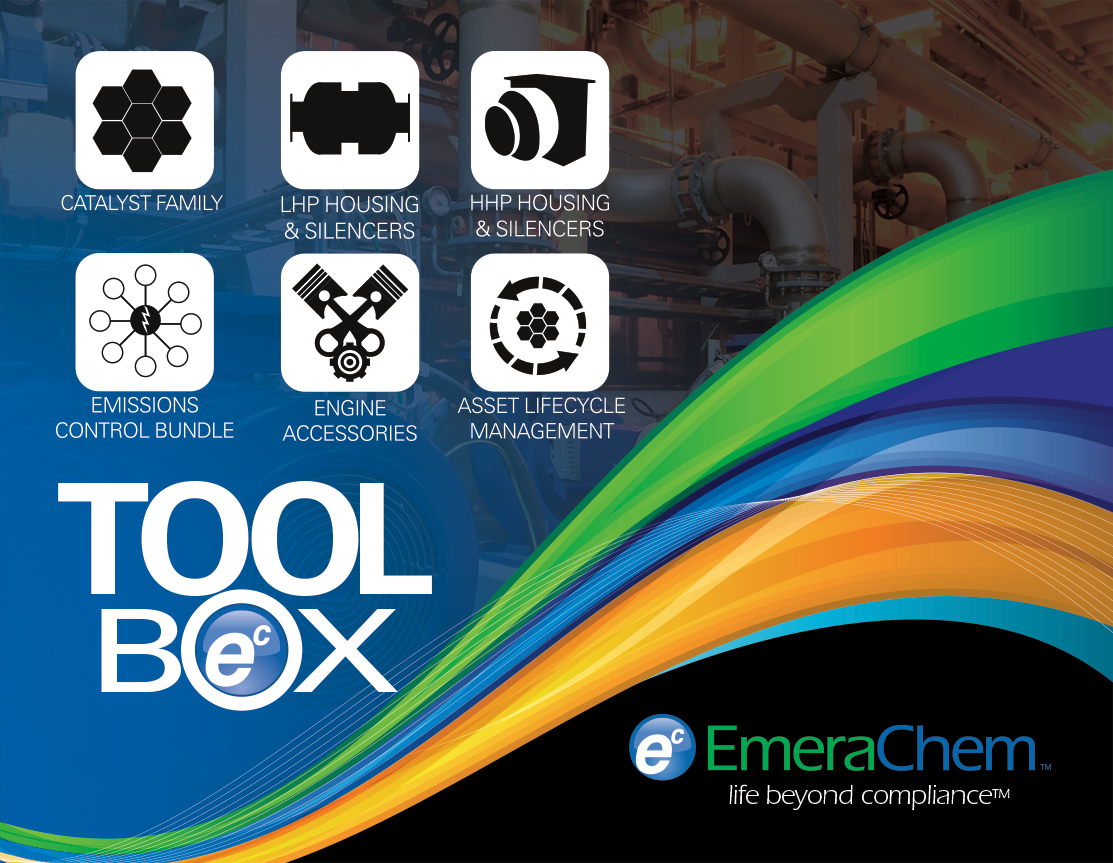 Custom EmeraChem "Tool Box"
Each one of the EmeraChem dealers has a large book of business and solutions they could sell from and they needed to create a way to stand out from their competitors. We developed the "Tool Box" of conversational icons and one page summaries, making it easier for their dealers to introduce and offer EmeraChem products to customers.
Central Message: Life Beyond Compliance
It became clear after spending time with customers, dealers and employees, EmeraChem's contribution was more significant than just being a world-class catalyst company. Their products and services were helping their customers not only meet emissions standards, but were actually helping them go well beyond standard compliance regulations. This led them to reframe EmeraChem's central message. Together with their dealers, customers can get back to the business of generating power - less worry, more productivity - that's "life beyond compliance."
2016 and Beyond
Since February, EmeraChem has been developing new momentum as their dealer network expands and their positioning in the market place has improved due to activities that include: trade publication advertising, press releases, web updates, tradeshow branding, nationwide conferences, brand updates, sales materials, dealer sales training, a featured article and more.
EmeraChem has taken proactive steps to increase market share and become an increasingly important player in the gas compression industry. We haven't arrived yet and more development will continue. There is an old adage that applies to building market share, "it's not a sprint, it's a marathon."
In the summer of 2016, EmeraChem decided to redesign their website with our creative guidance. In order to further EmeraChem's focus on Dealer Network Effectiveness and the EmeraChem Toolbox, we designed a website to continue focusing on these two key areas.
The website is designed primarily as a mobile sales tool for dealers in the field. We were able to develop an interactive, mobile-friendly version of the EmeraChem ToolBox for dealers to use as they meet with customers.
The web page would be interactive and support EmeraChem's dealer network by developing sales leads through the use of special offers & promotions.
Product Development & Marketing
As an OEM manufacturer, EmeraChem is a leading innovator in their industry and are constantly looking for the next new product or service to offer their customers. Their most recent innovation is the Multi-Lambda Catalyst Testing System (MLCTS), which allows for immediate emissions checks on Catalysts either in the field or at a regional dealer location. This breakthrough required an upgraded sales and marketing package. Upgraded photography, illustrations, technical icons, brochure and selling sheets came together to demonstrate the Catalyst Laboratory and Catalyst Testing Center.
In the Field
Customer Visits, Regional Sales Training, Business Development, & Trade Shows
The Sprout engagement with EmeraChem goes beyond design projects. Our team has helped facilitate company events, team meetings, trade shows, and sales coaching for EmeraChem's dealer network. We even assisted EmeraChem with business development which resulted in revenue and new partnerships with a Fortune 500 firm.
Learn more about the SPROUT process